Shanghai Elue offers complete solutions for all your POM machining needs.
What is CNC machining POM
CNC machining POM, or Polyoxymethylene (POM), is a highly versatile engineering thermoplastic that is widely used for components requiring high strength and stiffness. It offers good machinability, chemical resistance, dimensional stability, and low friction properties. The material has excellent wear properties and is customizable to meet specific requirements. CNC machining POM is a popular choice for precision components in industries such as electronics, aerospace, automotive, and medical.
The Benefits of CNC machining POM
CNC machining POM offers a number of advantages over other materials when it comes to components requiring high precision and tight tolerances. The following are some key benefits:
-Extremely durable: POM material is highly resistant to wear and tear, making it ideal for applications that require long-term use.
-High dimensional stability: POM is known for having excellent dimensional stability, meaning it can maintain its shape and size even under extreme conditions.
-Low friction: The material's low friction properties make it an ideal choice for components that require smooth movement or operations.
-Cost-effective: The material is affordable relative to other engineering thermoplastics, making it a cost-effective choice for components.
-Customizable: With CNC machining, POM can be custom designed to meet specific requirements and applications.
Applications of CNC Machining POM
CNC-machined POM is used in a wide range of industries, including electronics, aerospace, automotive, and medical. Some common applications include:
-Electronics components such as circuit boards and connectors
-Aerospace components such as actuators and control systems
-Automotive parts such as gears, linkages, and high-temperature seals
-Medical equipment such as MRI coils and implantable devices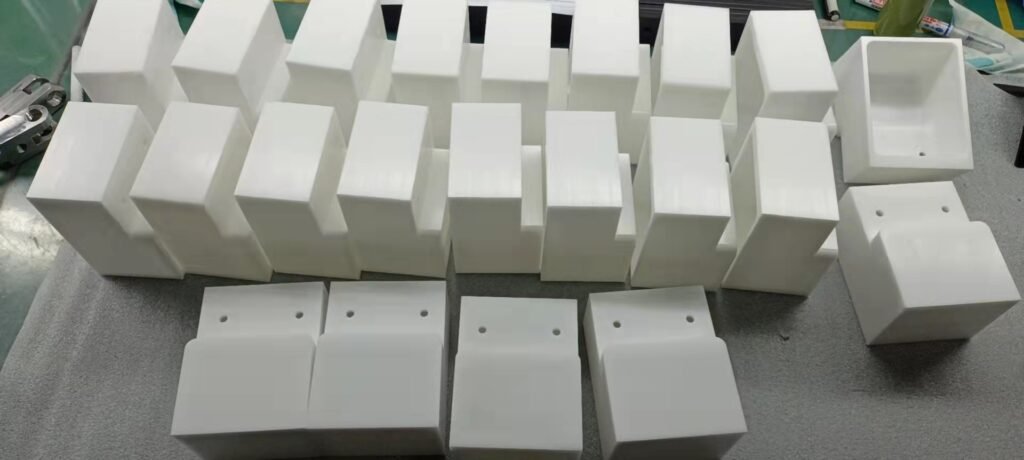 Why Choose Elue CNC POM Machining Service?
Shanghai Elue is a leading provider of precision POM machining services. Our technicians are experienced in the latest CNC techniques and have the necessary knowledge to handle complex components with tight tolerances. We use advanced quality control processes to ensure that every part meets our high standards for accuracy, durability, and functionality. Additionally, we offer quick turnaround times and flexible order quantities to meet your specific requirements. With Elue Machining, you can always count on quality parts that are delivered on time and within budget.
For more information about our POM machining services, please contact us today. Our knowledgeable staff is ready to answer any questions you may have and help you get started.
How to Get Started with CNC machining POM
If you are looking to get started with CNC machining POM, there are several important steps to consider. First, it is important to thoroughly research the material and its properties so that you can make an informed decision about how it will meet your application requirements. Second, select a reliable supplier who has experience in CNC machining POM. Lastly, create detailed drawings or models of the components that you wish to have machined and provide these to the supplier for fabrication.
Once all of this is done, your CNC machining POM parts are ready to be produced using state-of-the-art CNC machines.