What time flies! Since my last article about self-introduction writing, it has been over 2months now. Because of the covid-19, very few customers visited here except that Foreign Enterprise in shanghai. Yes, this has seriously affected our export business, which accounts for more than 30 percent of our total output.
Above all, I'd like to share a recent review after reading: only Differentiation can lead to high profits. The purpose of a business is to make profits. And too low Profit is not a good thing, don't think that low profit can make you get more conscience, this is wrong. Low margins lead to no money to provide better service, no money to take your quality and service to another level, correct? Then you will have to be gradually eliminated by the market. Of course, you may be asking: if you make big profits, it meant your pricing will be much higher than the market, why I should go with you? Of course, the big profits shouldn't come from customers, but from ourselves. We should do our best how to help customers to save their costs, then how to?
Firstly, improve our working efficiency, the operators skills,Machine performance, the management skills,etc. Secondly, cut our own costs like materials sourcing, unnecessary manual work,etc. So we can gain more profits at the similar pricing as other competitors, and at the same time, provide customers better service and quality. You agree on this?Ok, let's get back to the point from the last chapter. What i did after graduation from the university? And how is it going to change my life? When I graduated in 2010 at my 23, I was thinking where i should go? Shenzhen or Shanghai? I wanted to go to a coastal city because I also studied foreign trade in college. In China, the majority of young people will choose to work in the first-tier cities like Beijing(the Capital city), Shenzhen, Shanghai,and Guangzhou. on the one hand to increase our knowledge and working ability, on the other hand can increase the incomes. Coincidentally, that year Shanghai was holding the World Expo, so i decided to come to shanghai. That's over 1000km from my hometown. Then i had some interviews to the factories like lumber, electronics, machinery, and majority of them requested working experience at least 2 years, and finally i came to this machining factory and even it's quite small compared with other big factories, i found the people there very friendly and all the things there could meet my needs at that stage, so i decided to stay there.
(this is our current workshop)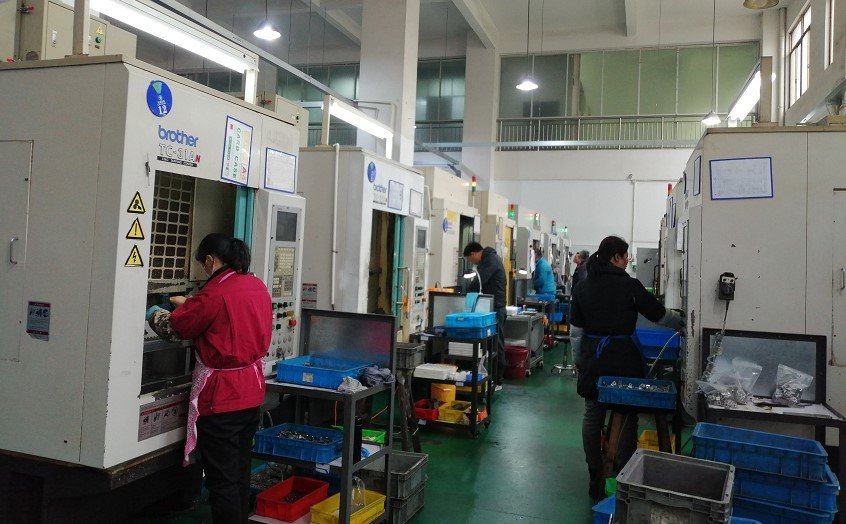 In the same month, i met my first 2 USA clients, one is from KY who started his own business also in 2010, i remember very clearly we made him a free sample, it's the very first time we sold to USA and also the first time he bought from China. He was satisfied with the quality also the communication skills, the he started to send more orders from then on. It was really an unforgettable experience, i talked with himeveryday via MSN (it seems that nobody is using it now), he only had one supplier in China because we can make his parts very fast and the quality was very stable. With our big support,his business developed very fast, he employed over 20 workers now, and he wouldn't talk with suppliers at more, there are some special purchasing in the company. And they are focusing on the automation equipment research and developing now. And the other customer from Columbus, the very first time we made him 2 mold cores and cavities, his company is specialized in prototyping mold, most from aluminum and some from steel. In the coming years,we made lots of cores for him, also many mold designs, yes the communication took much time since there are many standards and requests for each mold, and the results were quite satisfying. Our designs team is very efficient, we can always finish his designs during our daytime and send to him on his morning time. Very easy to work together. With the first 2 customers support, I felt quite confident to provide better service and value to more customers. Because of the time difference, i always stay up late to reply the questions and solve the problems for my customers. Based on this trust, they are recommending more customers for us, and gradually, my company is enjoying some reputations among their friends. Here i have to say thanks, your satisfaction is really a great support to my job.
(Russian customers visited for their 8 plastic molds making here in 2012)
Of course, it's not always that easy to win the new customers' trust. They don't think we are any different from other suppliers, what they care about is low pricing only, i do understand the good pricing is very important, but they only Missed an important word "Overal cost". What is it? Ok,let me make it easier to understand.
For example, Jake bought a suitcase for 10$, the suitcase weighs 30kg and the luggage inside weighs 5kg. Can you guess how much excess baggage charges he paid for traveling to and from India? The overall cost includes the communication skills, the delayed delivery time, the wrong quality, etc. So in the long run, that bargain buy will be costing you. yes we're not going to be the cheapest solution and you will surely receive lower pricing in China, but I just want to make sure that you are really comparing apples to apples. It's over 10years since I stepped into this industry, I met with lots of people with different personalities, habits, attitudes, but I'm still acting like a newcomer with my Professionalism and Passion. Above I spoke much about my working experience, if you take interest working with us or quoting from here, please feel free to do it. I'm sure we'll surprise you in a good way. Thanks for your time reading!
Cora Feng
2021.03.19